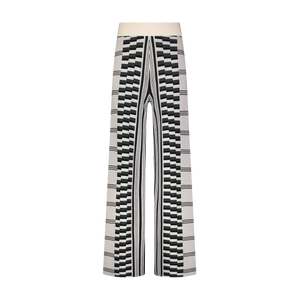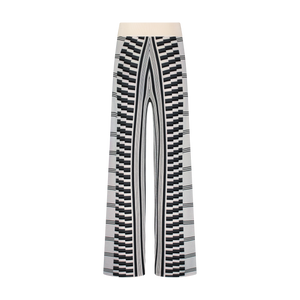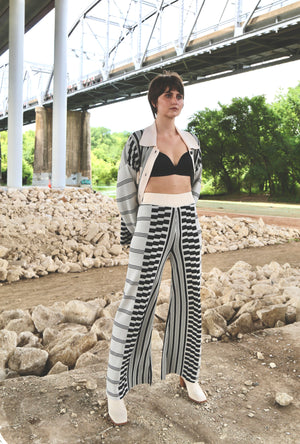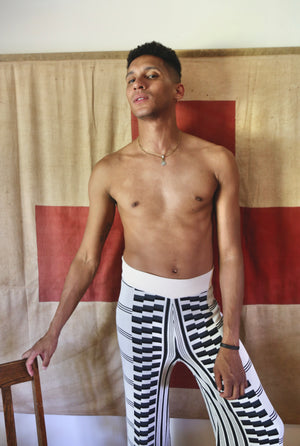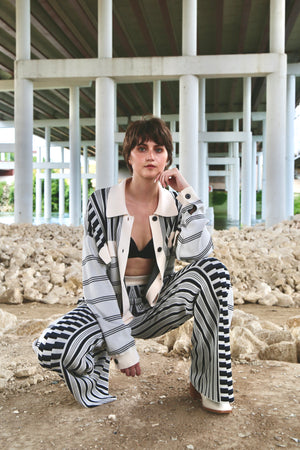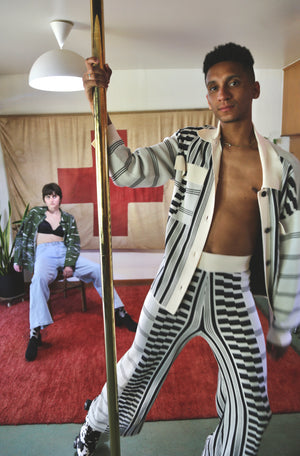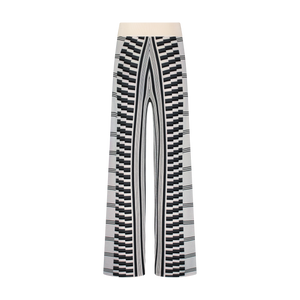 JR /LAB - Recycled Viscose Wide Leg Knit Pants
JR / LAB SPECIAL ORDER ITEM:
Please read below! 
In a pattern inspired by chaotic emotional constructivism, this glorious optical journey of a pant is made from an incredibly luxurious silky yet substantial recycled viscose nylon blend.  Fully fashioned (knitted) using a zero-waste process, these show stopping pieces are made-to-order in one of our partner workshops using some of the most innovative knitwear and sustainable technology.

Pair with the Recycled Viscose Shirt Jacket for the ultimate statement set. 

Shipping time may vary (as we stocked a couple sizes for those brave enough to order first) but production time takes about 3-4 weeks to produce.

We truly appreciate your patience while we craft your item from scratch, just for you. 


Model Rachel is a Women's small wearing the small pant and small shirt jacket.
Model Monty is a Men's small and wearing the small pant and small shirt jacket.
Please review the chart carefully below for sizing as this item is not returnable or exchangeable. 

If ordering with other items, this item will ship separately. 
65% Recycled Viscose | 35% Nylon

Standard sizing.
High-Waisted

Elasticated Waist
Slim Through Hips

Wide Leg

Gentle Machine Wash or Dry Clean

Imported


/ LAB: Recycled Viscose Wide Leg Knit Pants Size Guide (Inches)
XX-SMALL
X-SMALL
SMALL
MEDIUM
LARGE
X-LARGE
XX-LARGE
Target Body Waist Size
24-26
26-28
28-30
30-32
32-34
34-36
36-40
Garment Waist Measurement
25.9
26.9
28
29.1
30.4
31.6
33.2
Garment Low hip
34.8
36.1
37.2
38.2
39.4
40.8
42.4
Garment Front rise
10
10.4
10.8
11.2
11.6
12
12.4
Garment Back rise
13.6
14
14.4
14.8
15.2
15.6
15.9
Garment Thigh
20.3
20.9
21.6
22
22.7
24
25.4
Garment Inseam length
29.5
29.8
30
30.3
30.5
30.8
31
Measurements are given for your guidance only are approximate so we ask you to please expect a small tolerance as these are individually crafted, not mass produced styles.